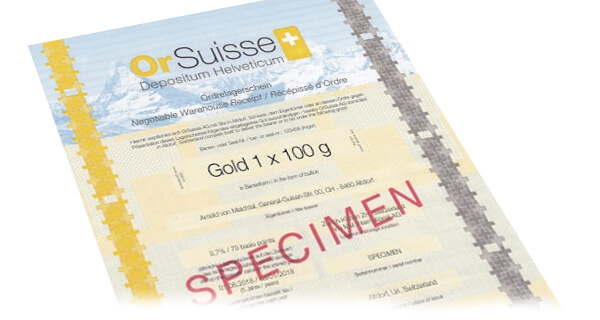 The OrSuisse negotiable warehouse receipt
At OrSuisse you will receive warehouse receipts for all your deposited precious metals. In accordance with the Swiss Code of Obligations, these documents are treated as securities, which means the owner of a warehouse receipt is entitled to claim ownership and take possession of the deposited item. Furthermore, these negotiable warehouse receipts enable full transferability of deposited goods via a simple endorsement.
OrSuisse warehouse receipts thus guarantee your precious metal holdings can become fungible and liquid. Such negotiable warehouse receipts can then be used in a variety of ways as a security – for example as collateral to guarantee loans. You can also choose to sell your warehouse receipts direct to authorised dealers at current precious metal prices.
Your precious metals, complete with full-risk insurance cover, are stored outside of the banking system in the safest vaults available in Switzerland. In principle, warehouse receipts can be issued for all kinds of precious metals such as gold, silver, platinum and palladium, and in any denominations. Silver and other white precious metals can be stored VAT-free in a bonded warehouse, and also sold and transferred upon request.
Up to 10 items of the same metal and denomination can be stored per warehouse receipt.
For example, if you wish to deposit 15 x 1oz Krugerrand gold coins with OrSuisse, you will then receive two warehouse receipts:
Warehouse receipt: 10 x 1oz Krugerrand gold coins
Warehouse receipt: 5 x 1oz Krugerrand gold coins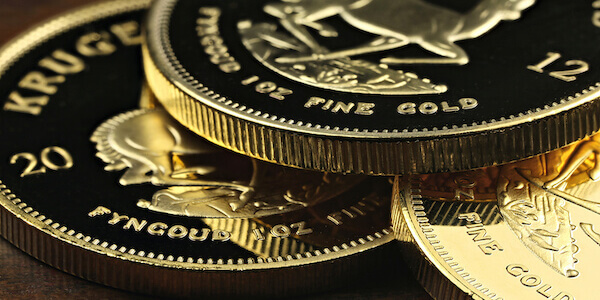 Useful to know
Because negotiable warehouse receipts are securities, your precious metals cannot be retrieved without them.
There is only ever one single copy of each warehouse receipt.
Your OrSuisse receipt guarantees that your physical bars or coins are deposited with us.
Upon retrieval of stored precious metals in exchange for the appropriate warehouse receipt, OrSuisse immediately removes that corresponding receipt document from circulation.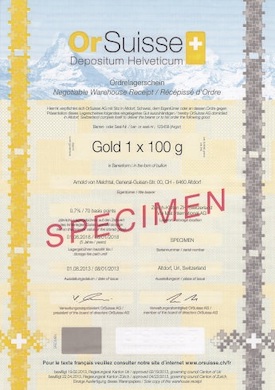 Your advantages at a glance
Storage of gold, silver, platinum and palladium
Direct ownership of deposited holdings
Fee payments in CHF, EUR, Bitcoin, Ether or Stablecoins
Retrieval of holdings at any time
Individual storage, allocated & segregated
Storage outside and independent of the banking system
Guaranteed authenticity of all stored precious metals
Warehouse receipts are acceptable for use as collateral
Easy transferability requires just a simple endorsement
Customer data treated with maximum privacy and discretion
VAT-free transfer of silver stored in bonded warehouses
Warehouse receipt queries and value calculator
To determine the value and pre-paid storage period of any warehouse receipt, you can either conduct a warehouse receipt query without registering your details, or access our warehouse receipt calculator using your personal login. You can save different warehouse receipts, and will always be able to gain access to check their current values.
Enter the serial number in order to check the existence, or determine the value of, a warehouse receipt. You can find this on the front of your negotiable warehouse receipt (see illustration on the right).
To display any further details, such as the value, please also enter the verification code, which you can find on the back of your warehouse receipt (see illustration on the right).
When entering verification codes, please make sure you enter any upper and lower case letters exactly as they appear on the original document.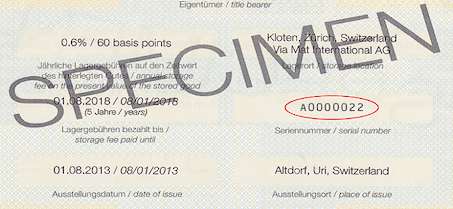 Please understand that, because of our security regulations, we are unable to provide any information about warehouse receipt details over the phone.
Counterfeit protection is our paramount consideration
Despite extensive security measures, online administration involving stored customer data always carries the extra risk of data loss or data theft. Yet by comparison, the threats to physical securities issued on deposited goods are much more limited. However, there remains a risk that such documents could be forged.
That is why OrSuisse engages the services of Giesecke & Devrient – one of the most experienced security printing companies in the world – for the printing of warehouse receipts.

The company's security standards meet those demanded for the printing of money. Thus, OrSuisse can offer you the highest possible protection against any possible forgery of your negotiable warehouse receipts.
In addition, OrSuisse and all authorised dealers have specific test procedures which can be employed for these warehouse receipts.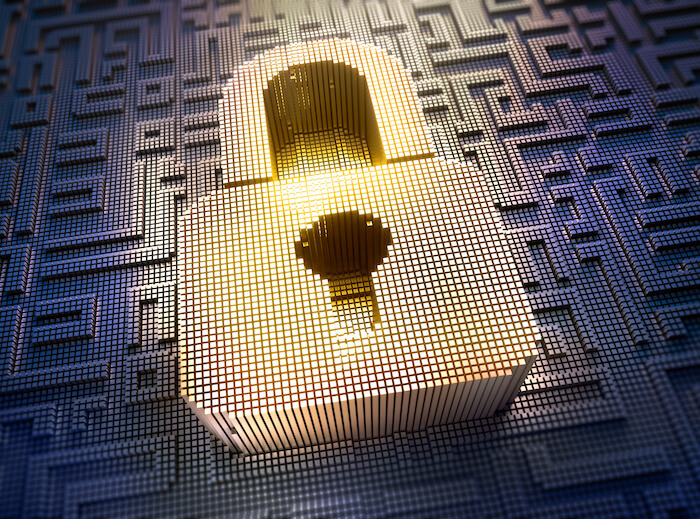 Easy renewal, relocation and exchange procedures
OrSuisse negotiable warehouse receipts offer you flexible administration procedures. So you can exchange or extend your warehouse receipts, or arrange for a transfer of your precious metal holdings, at any time.
An exchange can become necessary, for example, if you want to transfer your holdings, or if all six endorsement fields on your warehouse receipt (reverse side) have been used up. Your remaining storage fees will then be credited in full.
A renewal or extension will become necessary once your pre-paid storage period has expired.
Transfer of a warehouse receipt by endorsement
You can easily transfer negotiable warehouse receipts to a new owner by endorsement (directly on the document) with an address and signature.
There are no further formal requirements. However, we would recommend that you also keep a written record of the transfer, by means of a receipt or sale contract.


The first owner is noted on the front page of the warehouse receipt.
The first owner then signs the warehouse receipt on its reverse side.
A transfer of the warehouse receipt is entered in the endorsement field.
NB: Use our value calculator when buying or selling a warehouse receipt. (See above)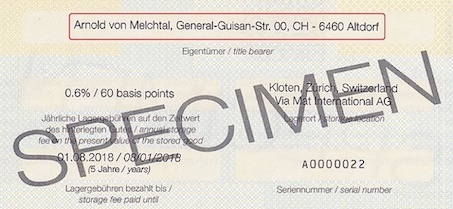 First owner of a negotiable warehouse receipt

Signature field for the first owner



Loss of a warehouse receipt and invalidation
If a warehouse receipt is lost, the invalidation procedure then applies. OrSuisse must be notified of any loss immediately so that they are made aware of the relevant warehouse receipt numbers involved.
OrSuisse will support you in initiating your declaration of invalidation. This is carried out before a Swiss court in accordance with the Swiss Code of Obligations. Upon completion of the procedure, OrSuisse will then arrange to reissue a new warehouse receipt.
Your ownership of the deposited precious metals still remains valid, even during the invalidation procedure.
Would you like to find out more?